CONGRATULATIONS to our new KIDS BJJ Graduates on their recent belt promotion from Professor Bill Scott!
These 5 students have been training hard showing great effort, dedication and skill on the mats and have earned their new rank! Coaches and Parents are very proud 🙂 KEEP UP THE GREAT WORK –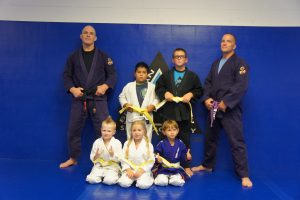 **NEW BJJ GRADUATES**
Yellow/White: Shane M., Jared A., Hayden A., Garrett S. –
Yellow: Kevin H.
More Promotions to come this Fall/Winter…TRAIN HARD!
Click here to view all the promotion pics!
https://www.facebook.com/pg/BJJ-Shore-Academy-188239334799/photos/?tab=album&album_id=10155752817949800