BJJ Shore Academy
About Us
BJJ Shore Academy is committed to serving our community by promoting a positive mental attitude and the highest level of physical fitness through the study of Brazilian Jiu-Jitsu.
Our Academy
Brazilian Jiu-Jitsu Shore Academy is located at 654 Rt. 88 East in Point Pleasant, NJ. Its central location along the Jersey Shore allows you to get to the academy from many different routes coming north, south, east and west.
The school is open 6 days a week and offers a schedule of morning and evening classes for adults and children. There are family discounts along with law enforcement/military discounts.
BJJ Shore Academy instructors teach Brazilian Jiu-Jitsu which is the most efficient martial art style proven to date. It has been perfected and passed down by the legendary Gracie Family. In Japanese, Jiu-Jitsu's translation means the "gentle art". The principle is to use leverage and proper technique so that even the smallest, weakest person can defend them self against a larger and stronger assailant.
A beginners program (Fundamentals/Basic BJJ) is offered and all classes are structured self defense learning in a non-competitive environment. This allows students to pursue their personal goals at their own pace.
Brazilian Jiu-Jitsu has rapidly become the most in-demand martial art style in the United States today and our academy SPECIALIZES in this art. To date the school has produced 16 black belts whom are on the mats training with all the students daily and an amazing amount of talented brown, purple, blue and white belts following on the journey!
"WE ARE A BLACK BELT SCHOOL"
BJJ Shore Academy also offers training for Kickboxing, Wrestling, Yoga, MMA, and Law Enforcement, Women Self Defense Training in a positive and friendly structured environment.
(Hosted Multiple Women Self Defense & Law Enforcement Seminars)
At Bill Scott BJJ Shore Academy, w
e dedicate ourselves to providing the highest quality martial arts and Brazilian jiu-jitsu training available.
We aim to deliver outstanding student service while maintaining a clean and safe family atmosphere. Professor Bill Scott and assistant instructors will continue to pass on the traditions, values, and teaching the principles of this martial art where students of all ages can achieve fulfilling productive lives through serious Jiu-Jitsu training.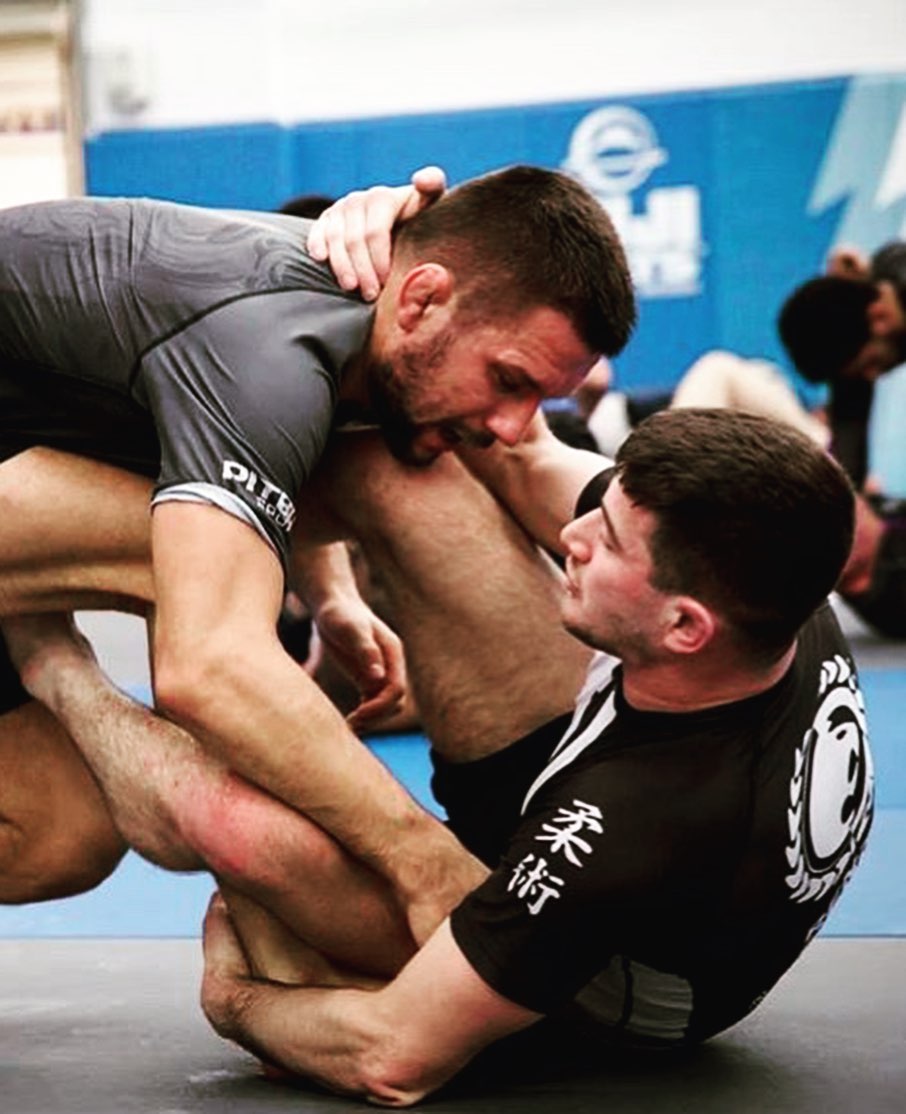 Basic Gi BJJ
Basic Skills & Drills of Brazilian Jiu-Jitsu Recommended for New students Adults, Teens(13 n Up) Class is 60 minutes (*Gi required for BJJ training)
Adult Gi BJJ
Brazilian Jiu-Jitsu (BJJ) for ADULTS & TEENS (13 n up) Instruction with flow drills and followed by Randori a.k.a "Live Training" (Live training is optional for students) Class is 90 minutes *Gi required . All Levels
No-Gi Jiu-Jitsu
Adult No-Gi Submission Grappling, Jiu-Jitsu and Wrestling Takedowns Instruction and Randori a.k.a "Live Training" for adults/teens Class is 60 minutes (Shirts/Rash Guards & Shorts/Sweats required for No-Gi training)
Kids BJJ
Kids BJJ Gi – Self Defense Classes Ages 5 – 8
Kids BJJ Gi – Self Defense Classes Ages 9 – 12
Get Lean and Flexible
Become Strong and Self-Assured
Gain Control of Teasing and Bullying
Learn to Set and Achieve Goals
Overcome Fears and Challenges
Plus, Gain a NEW Appreciation For Academics
Learn to Say "NO" to Negative Peer Pressure
Give Your Child a Kick-Start to Life!
Classes combine the basics of Brazilian Jiu-Jitsu, Judo and Grappling & some Randori a.k.a Live Training Kids are partnered up by size, age and skill level Class is 45 to 60 minutes (*Gi required for BJJ training) *Gi is a Kimono / School Uniform LITTLE CHAMPS – Toddlers **Ages 3.5 & 4 – Class is 30 minutes for Toddlers – Increasing confidence, integration into groups, willingness to try new things and initiate play, listening skills, sense of pride in achievements – Greater strength, flexibility and coordination, early sports skills. (Intro to Brazilian Jiu-Jitsu Martial Arts)  * The 3.5  year olds vary depending on attention and listening skills, some may need more time to begin Little Champs. (Must also be potty trained) FREE 2 Week Trials are offered to see if they can take part in the class setting.
MUAY THAI Kickboxing
Headed and structured by the very experienced Kru Tom Dowd, this program focuses on teaching the basic fundamentals and advanced skills of Muay Thai. This includes stance, footwork, basic punches, kicks, knees and elbows and the defenses to these techniques. Also known as Thai boxing is a combat sport of Thailand that uses stand-up striking along with various clinching techniques. This physical and mental discipline which includes combat on shins is known as "the art of eight limbs" because it is characterized by the combined use of fists, elbows, knees, shins, being associated with a good physical preparation that makes a full contact fighter very efficient. Muay Thai became widespread internationally in the twentieth century, when practitioners defeated notable practitioners of other martial arts. The professional league is governed by The Professional Boxing Association of Thailand (P.A.T) sanctioned by The Sport Authority of Thailand (S.A.T.), and World Muaythai Federation (WMF) overseas. *MMA Sparring (Advanced Students Invite Only, TBA in class) Head Gear, Mouth piece, Shinguards Required 
HIIT (30 Min)
HIIT, or high-intensity interval training, is a training technique in which you give all-out, one hundred percent effort through quick, intense bursts of exercise, followed by short, sometimes active, recovery periods. This type of training gets and keeps your heart rate up and burns more fat in less time. Routines involve bodyweight work (e.g. push-ups, jumping jacks, mountain climbers) or added weight, such as kettlebells, medicine balls, or dumbbells that will tone your muscles while spiking your heart rate. HIIT is effective on multiple fronts. 
The essential framework of high-intensity interval training is always the same: Brief, all-out work periods, separated by rest periods that you wish were just a little longer. The work-to-rest ratio can vary from 1:1 (for example, 30 seconds on, 30 seconds off) to 1:4 or more, and the rounds can be just a few or 15 or more. But no matter how long you rest, the key is that you bring everything you've got to your intervals.
HIIT can be used to lose as much fat as possible while cutting, to stay lean and conditioned while adding muscle, or to improve aerobic and anaerobic endurance for performance-focused athletes.  It will help accelerate fat loss and improve aerobic and anaerobic endurance.
HIIT will most likely produce very fast results in a short period of time, which is why it has been gaining popularity ever since it was introduced to the bodybuilding community.
*This training is for beginners to advanced as students can push at their own pace (max) during the time and level they are at and overall start to improve cardio endurance!
(Class is a total of 30 minutes from warm-up, training and cool down)
Yoga
Hatha Yoga Practices
Traditional asanas (poses) put together with pranayama (breath control) in a flow (vinyasa) format to experience a full mind and body connection.
All beginners to advanced levels welcome
Class is 75 minutes (Yoga Mat required)
Certified Yoga Teacher CYT Level II – Micaela Scott
BodyART – (Yoga Inspired/Fusion) this 60 min class combines functional movement therapy exercises, cardio deep work segment, strength & awareness training exercises all in sequence to 5 energy phases and the natural elements. (Bring towel, drink, and mat…you will sweat!!)
BodyART has become a HIT all over Europe & throughout 14 countries with over 5,000 instructors today. It recently was brought to the US and has hit up the major NYC fitness clubs by storm.
Micaela Scott is one of the first in New Jersey to be a
Certified BodyART International Instructor – Level II
FREE TRIALS
Try out Brazilian Jiu-Jitsu (BJJ) for FREE!… Adults,Teens, Kids and Toddlers
We are so confident in our program that we offer FREE TRIALS and if Brazilian Jiu-Jitsu is not for you, then you can walk away…No hard feelings!
So come try us out and see for yourself the ELITE instruction offered daily with New Jersey's top level certified Jiu-Jitsu instructors at Brazilian Jiu-Jitsu Shore Academy!
There are 16 academy black belts to date promoted out of BJJSA!! .. WE ARE A "BLACK BELT" SCHOOL.
Private Lessons & Instruction
Private lessons are the fastest way to learn Brazilian Jiu-Jitsu. Whether you are a complete novice who has always wanted to start jiu-jitsu, or a more advanced student looking to improve your game, private lessons can help.
Men, women, and children may quite safely take on the learning of Brazilian Jiu-Jitsu even though they may have little or no previous experience with any type of martial art.
BJJ Shore Academy's black belt instructors are all available for "Private" instruction. Contact us for more information and to schedule a private lesson(s).
Real People. Real Results.
At BJJ Shore Academy, we aim to deliver outstanding student service while maintaining a clean and safe family atmosphere. Professor Bill Scott and assistant instructors will continue to pass on the traditions, values and teaching the principles of this martial art where students of all ages can achieve fulfilling productive lives through serious Jiu-Jitsu training.
Read our High Rated Google Reviews!! Click on link:
 https://www.google.com/#q=bjj+shore+academy+/+bill+scott+bjj&lrd=lrd