CONGRATULATIONS Shore Academy MUAY THAI as it held its first graduation ceremony with program head instructor Kru Tommy Dowd.
On Thursday August 9th, 2018 Kru Dowd promoted 17 students including two that got their impressive black armband after they were tested in their respected rank level. Since his program began this past January, students have been dedicated to their training and doing a great job. Classes are structured, they train hard learning the art and have some fun too! We are very proud of everyone's achievements and look forward to many more as this program continues to grow under the guidance of Muay Thai martial artist and trainer Kru Dowd.
Thank you to all who were there in support of each students achievements and a big thanks to assistant instructors, Howie, Patty and Marcelo for helping in the promotion testing!
*CONGRATULATIONS NEW RANK GRADUATES!!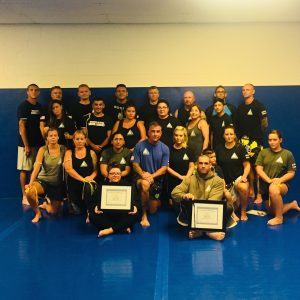 *YELLOW: Keri, Kathy, Liam, James A., Chris, Mike, James G., Michelle, Sofia, Amy, Grace/
*GREEN: Micaela, Nick /
*PURPLE: Ariel /
*RED: Bianca /
*BLACK: Pete and Giovanna /
_________________________
Click on link to view promotion pics:
https://www.facebook.com/pg/BJJ-Shore-Academy-188239334799/photos/?tab=album&album_id=10156542922849800
SHORE ACADEMY MUAY THAI WELCOMES ANY BEGINNER OR ADVANCED STUDENTS! (2 Week FREE Trial) Classes for Adults & Teens Come be part of our family fun, structured program. Learning the art, self defense, get in shape, build confidence and make some great friends!
SEE YOU ON THE MATS 🙂