CONGRATULATIONS to our Adult BJJ students who were promoted by Professor Bill Scott on Tuesday November 21st, 2017.
It was a great night of well-deserved new belt ranks and training on the mats. 18 more students graduated getting another step closer to black! That journey to black belt does not come easy and these students are training hard putting forth great effort and time of dedication to their study in Brazilian Jiu-Jitsu under the guidance of Professor Bill. – AWESOME JOB EVERYONE!!
We are Proud of your dedication and commitment to your training!! Thank you to the coaches and teammates who were able to attend this last set of promotions for 2017. We look forward to the New Year and many more well deserved achievements to come!! ~
NEW BJJ GRADUATES:
~ GREEN BELT: Makana Steinmetz /
~ BLUE BELTS: Trinity Steinmetz, Harleigh Burst, Theresa Dantonio, Andrea Nafey, Anthony Mercogliano, Dave Samler, Frank Romeo, Kyle Isetts, Chris Boyle, Sam Gill, James Avery, David Kent, Kevin Docherty /
~ PURPLE BELT: Liam Gavan /
~ BROWN BELTS: Josh Dickinson, Kevin Scott, Joe Melon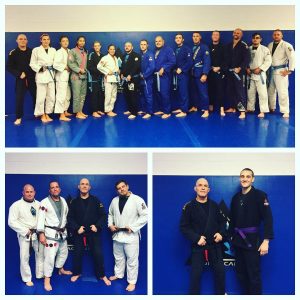 Click on link to view all promotion pics:
https://www.facebook.com/pg/BJJ-Shore-Academy-188239334799/photos/?tab=album&album_id=10155884734754800
KEEP TRAINING HARD…MORE GREAT ACHIEVEMENTS TO COME IN 2018!!