CONGRATULATIONS BJJ STUDENTS!!
Another great night of some well-deserved new belt ranks and training.
11 students promoted…9 blue belts, 1 purple and a brown belt getting one step closer to black.
They are training hard putting forth great effort and many years of dedication to their study in Brazilian Jiu-Jitsu….AWESOME JOB GUYS!!!
BROWN BELT- Rich Travali
PURPLE BELT- Ed McCay
BLUE BELTS – Liam Gavan, Dan Marshall, Connor Lucero, Alyssa LaBoy, Nick LaBoy, Mark Camiscioli, Brian Pfistner, Mike DeGennaro, Rob Salsano
CONGRATS FROM YOUR TEAM,
Bill Scott BJJ Shore Academy/Team Pablo Popovitch NJ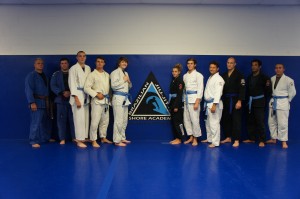 Click on link to view all the promotion pics:
https://www.facebook.com/media/set/?set=a.10152696669129800.1073741854.188239334799&type=1