CONGRATULATIONS BJJSA!!  VOTED 2014 "BEST OF THE BEST" MARTIAL ARTS SCHOOL FOR OCEAN COUNTY BY THE READERS CHOICE OF THE ASBURY PARK PRESS!!
This is our 4th year in a row award and we couldn't be more proud and honored by all those in the community, our loyal students, friends and family for their support and voted for us once again!!
Brazilian Jiu-Jitsu Shore Academy has such a respected and high level strong foundation built by all our black belts, instructors, coaches and all the students who make the school the success that it is today and a GREAT family place to be part of!!
THANK YOU …We are committed to serving our community by promoting a positive mental attitude and the highest level of physical fitness through the study of Brazilian Jiu-Jitsu.
We dedicate ourselves to providing the highest quality martial arts training available.
To deliver outstanding student service while maintaining a clean and safe family atmosphere. Professor Bill Scott and assistant instructors will continue to pass on the traditions, values and teaching the principles of this martial art where students of all ages can achieve fulfilling productive lives through serious Jiu-Jitsu training.
Sharing in the Arts to Adults, Teens & Kids 🙂
Bill Scott BJJ Shore Academy Team Pablo Popovitch Of New Jersey
COME TRAIN WITH THE BEST MARTIAL ARTS FAMILY –  30 DAYS FREE !!!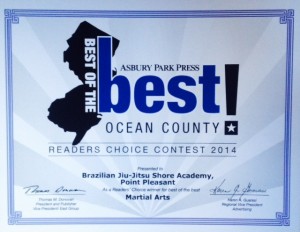 VOTED 4x Winner – 2014, 2013, 2012, 2011