SPECIAL CONGRATULATIONS to our newest Black Belt Professors ART OLIVER and JERMAINE CLAY!!
Couldn't be more proud of these two great men, fathers and law enforcement professionals who continue to be such positive role models both on and off the mats! Their BJJ journeys started over 10 years ago and we look forward to more great years sharing in the arts together! 
Recognition of this accomplishment awarded on January 9th, 2019 from head instructor Professor Bill Scott at Brazilian JiuJitsu Shore Academy in Point Pleasant, NJ. 
~
"a blackbelt is white belt that never quit"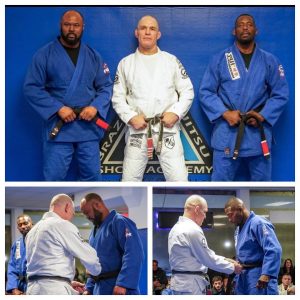 ~ Be it known these practitioners have acted with honor, respect, self-confidence and discipline. 
The level of ability, attitude and character displayed is consistent with this rank and title. 
It is with every confidence, that these practitioners will uphold the core values and principles of Brazilian Jiu-Jitsu.
Rank and title is given with special trust as these students are expected to continue with utmost dedication, the pursuit of excellence in the Martial Arts. ~