CONGRATULATIONS to our new promoted KIDS in our BJJ Youth Program
Professor Bill Scott awarded 4 more warriors to their next belt rank on Monday August 27th. They have been training hard and doing a great job! BJJSA Coaches and parents are super PROUD of their achievement!! KEEP UP THE GREAT EFFORT & DEDICATION TOWARDS YOUR TRAINING….AWESOME JOB GRADUATES!!
YELLOW/WHITE BELTS: Ryan, Fred, Jack and LJ.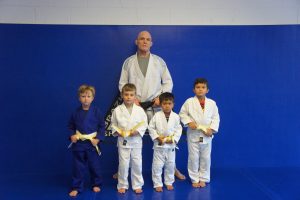 More great promotions to come this Fall !!
Click on link to view all the pics: https://www.facebook.com/pg/BJJ-Shore-Academy-188239334799/photos/?tab=album&album_id=10156585757339800&__xts__%5B0%5D=68.ARDTyocqkXeCagy89FE1H192ND2a2lHjbYKHYz-QJ-X-jdtonXt1lVpYncv7He7wXw_QAVhPEzDvW_x37UJD9BKZQyUi_HfXguErMKnPCsC-rAGURNtnCnc_xtwdf9ylvFQXC8Y&__tn__=-UCH-R