What a GREAT Charity event to support the K.Hovnanian Children's Hospital (JSUMC) held yesterday at the Stone Pony as two elite New Jersey ENT Doctors who both train in Brazilian Jiu-Jitsu hit the mat for a super fight BJJ match that went three – 5 minute rounds which ultimately ended in a draw!
Our very own student Dr. Sean Houston (BillScottBJJ) took on Dr. Josef Shargorodsky from (DanteRiveraBJJ). Both guys were ready to represent and did an awesome job grappling putting on a great show for the many friends, family, co-workers, hospital employees and students from both schools that came out to support this event. It was a fun time coming together for this and also enjoying the live band, food, 50/50 raffles and giveaways!
After the match (since it was a draw) they did a classic Rock, Paper, Scissors shoot Finale…LOL in which Dr. Sean took the Win! ☺
All in all, most importantly a wonderful successful day as 100% of the proceeds went to this children's hospital charity and along with the online donations they raised about 15,000!!!
THANK YOU again to everybody who came out and to our Professors, coaches and students who helped prepare teammate, Dr. Sean Houston in his training.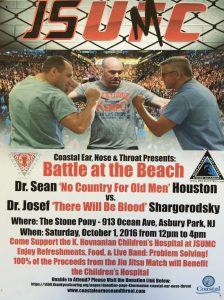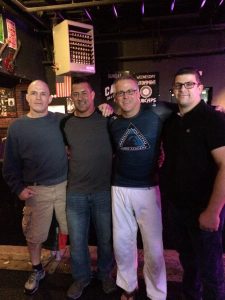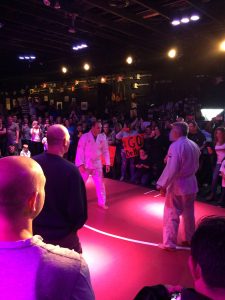 WE ARE BJJSA PROUD 🙂
Go to BJJ Shore Academy Facebook page to view all our pics!