JIU-JITSU FOR LAW ENFORCEMENT  – The Ultimate Combative Defensive Tactics solution for any Law Enforcement or Military organization.
FREE SEMINAR – SUNDAY JULY 31st, 2016 @ 10am
Today, assaults against law enforcement officers and excessive force allegations are at an all-time high and consequently, there is a very real risk that a military or law enforcement professional will encounter those criminals with some form of mixed martial arts training.
IBJJF Certified 3rd Degree Black Belt Bill Scott along with his instructors, makes sure law enforcement officers are up to date and at pace with Mixed Martial Arts' continued growth in the USA.
SEMINAR INSTRUCTORS
Head Instructor Bill Scott – 3rd Degree BJJ Black Belt
NJSP – Dan Strassheim / 2nd Degree BJJ Black Belt
WALL PD – Greg Carpino / 2nd Degree BJJ Black Belt
BERKELEY PD – Jay Malley / 1st Degree BJJ Black Belt
NJSP – Rich Ashkar / BJJ Black Belt
~
 Instructing Jiu-Jitsu Self Defense for the New Jersey State Police, Federal and Local Law Enforcement Agencies along with Military professionals for the past ten years.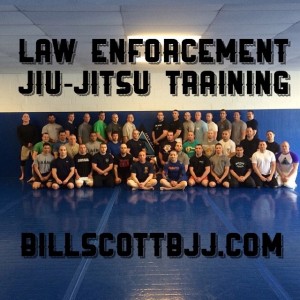 CALL OR EMAIL TO REGISTER YOUR SPOT 
billscottbjj@gmail.com
732-904-1759