BJJ Shore Academy KIDS competed in the Judo tournament up in Wayne, NJ on May 17. 2015.
Team Bill Scott BJJ brought up 12 of our youth students to test their skills in their first ever Judo competition as they have been working very hard on training their stand up techniques/throws in class.
Professor Bill and Coaches are very proud of them for going out and doing their best. Some had up to four matches each against tough North Jersey Judo Academies. It was a long day and our kids showed great sportsmanship, patience and support to their teammates too.
A BIG Shout Out to the Moms and Dads for supporting their kids Martial Arts training and being their biggest fans.
We appreciate all you do in getting the kids to class weekly as well as driving up to the tournament!!.. And a Thanks to the Grandparents and friends who also came up to watch…YOU GUYS ROCK!!
CONGRATS BJJSA KIDS ON A GREAT JOB!!
Sean Z., Samantha, Sabrina, Garret, Curren, Georgia, Frankie, Isaiah, Justin K., Jessup, Chloe, Cassidy G.
Our Team brought home some individual medals!!
2 Gold, 1 Silver, 7 Bronze…AWESOME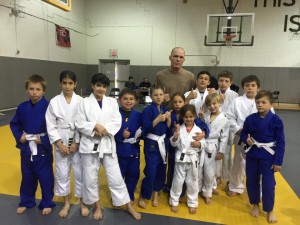 LET'S GET AFTER MORE 🙂