Once again the learning never stops!
Four more of our students who are full-time Law Enforcement professionals completed the 5 day Gracie Survival Tactics (GST) Level 1 Instructor Course held in Atlantic City, NJ held on April 24 -28th, 2017.
Electing to further their knowledge, this course enable them to hone their skills in law enforcement self defense tactics which they hope to impart on their LE brothers n sisters!
GREAT JOB John Cain, Ryan Vaccaro, Greg Martone and Steve DeAngelis all pictured here with GST instructors Rener Gracie and Brian Ortega who led the course. The guys had a great week of training with some agencies from around the world as well.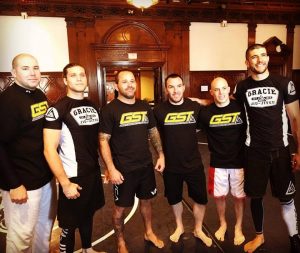 We couldn't be more proud of their commitment to continue to learn Jiu-Jitsu self defense, train daily and educate others in the Law Enforcement community.
BJJ Shore Academy has hosted Jiu-Jitsu for #lawenforcement seminars for the past 10 years to the NJSP, Federal and Local PD agencies with our certified instructors. Visit our website LE link for more info and/or to start training regularly with our elite Team: www.billscottbjj.com
*********************
"An officer without training is an accident waiting to happen"
~ Gracie BJJ
The ultimate combative defense tactics solution for any Law Enforcement or Military organization.