Bill Scott BJJ Shore Academy held another FREE two hour productive hands-on seminar for some Federal, State, Local Law Enforcement and Military on July 31st, 2016.
These professionals came out on their Sunday to train and learn some of the latest ultimate Combative Defensive Tactics!
ASSAULTS against law enforcement officers and excessive force allegations are at an all-time high!
There is a very real risk that a military or law enforcement professional will encounter criminals with some form of mixed martial arts training.
We offer this workshop to help them become PREPARED, READY and to stay SAFE!
"An officer without training is an accident waiting to happen"
We wish to THANK all who attended and to our great instructors for leading this seminar.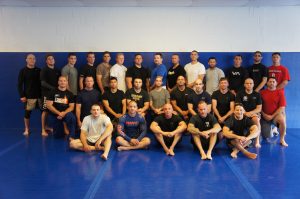 INSTRUCTORS:
Bill Scott – Head Instructor 3rd Degree BJJ Black Belt
Dan Strassheim – (NJSP) 2nd Degree BJJ Black belt
Greg Carpino (Wall Pd) / 2nd Degree BJJ Black Belt
Jay Malley (Berkeley Pd) / 1st Degree BJJ Black Belt
Rich Ashkar (NJSP) / BJJ Black Belt
Thank you also to our BJJ students who assisted the drills on the mats as well.
The seminar is a success due to your commitment and dedication in the training.
Click on link to view all the seminar pics!  https://www.facebook.com/BJJ-Shore-Academy-188239334799/photos/?tab=album&album_id=10154405518694800
______________________________________________
BJJ Shore Academy have been instructing Jiu-Jitsu Self Defense for the past 10 years and continue to help give back to the LE community.
Brazilian Jiu-Jitsu 3rd Degree Black Belt Bill Scott, with his instructors, makes sure the New Jersey law enforcement officers are up to date and at pace with Mixed Martial Arts' continued growth in the USA.
Since our latest threat is the emergence of the mixed martial arts fighter, law enforcement personnel must be able to address this new challenge as this sport is growing in popularity. More people participating in this art means that the chance the officer has to confront someone with this knowledge is increasing as well.
TODAY IN GENERAL, ASSAULTS against law enforcement officers and excessive force allegations are at an all-time high!
For more information on scheduling a law enforcement training workshop or for any professional groups/business contact Bill Scott. (732) 904-1759 or Go to our LE link page on the web
Self Defense Women Group Seminars Available Too!
FOLLOW US ON SOCIAL MEDIA AND FOR OUR NEXT SEMINAR THIS YEAR.
Facebook – BJJ Shore Academy
Instagram – BJJ Shore Academy
Twitter – billscottbjj
Website – billscottbjj