On June 29th, 2014 Law Enforcement came together to help raise funds for sweet baby girl Harper Tretola who was diagnosed with Hydrops Fetalis; a very serious medical condition. Ship Bottom Police Officer Brian Tretola and his wife Rachel recently welcomed their brand new daughter Harper into the world. She has been fighting hard, but the toll that this condition has taken on this family has been severe.
These officers came out to support the Tretola Family and learn the latest Self-Defense Concepts for Law Enforcement at Bill Scott's Brazilian Jiu-Jitsu Shore Academy in Point Pleasant, NJ.
This seminar along with many outside donations was a great success raising over $3,500 for baby Harper and her family!!
A very special THANK YOU to Berkeley Police Officer Jay Malley our BJJ Black Belt for putting all this together and instructing the seminar and also Tinton Falls Detective Joe Schular , BJJ brown belt on assisting and also raising money through his own department!!
Assisting in instruction also was NJSP Rich Ashkar, BJJ Black Belt and Bill Scott, 2nd degree BJJ black belt our head instructor at BJJSA.
WE THANK OUR BJJ STUDENTS, FRIENDS AND EVERYONE WHO HELPED & DONATE FOR THIS SPECIAL CAUSE!!
Seminar Class Pic 6/29/14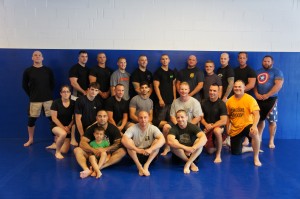 GOD BLESS BABY HARPER