JIU-JITSU FOR LAW ENFORCEMENT  SEMINAR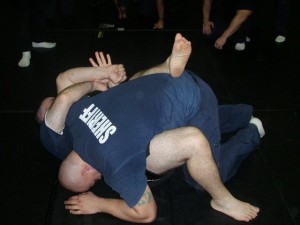 SUN- JUNE 8TH, 2014
11AM – 1PM
Brazilian Jiu-Jitsu 2nd Degree Black Belt Bill Scott, with his instructors, makes sure the New Jersey law enforcement officers are up to date and at pace with Mixed Martial Arts' continued growth in the USA.
Since our latest threat is the emergence of the mixed martial arts fighter, law enforcement personnel must be able to address this new challenge as this sport is growing in popularity. More people participating in this art means that the chance the officer has to confront someone with this knowledge is increasing as well.
Bill Scott and NJSP Dan Strassheim have been instructing Jiu-Jitsu Self Defense for the New Jersey State Police T.E.A.M.S Unit, local law enforcement agencies and C.E.R.T Teams in Monmouth and Ocean counties for the past eight years.
SEMINAR INSTRUCTORS:
Bill Scott – 2nd Degree BJJ Black Belt
NJSP – Dan Strassheim / 1st Degree BJJ Black Belt
NJSP – Rich Ashkar / BJJ Black Belt
WALL PD – Greg Carpino / 1st Degree BJJ Black Belt
BERKELEY PD – Jay Malley / BJJ Black Belt
Contact Head Instructor Bill Scott
BJJ Shore Academy
654 Rt. 88 East Point Pleasant, NJ 08742
(732) 904-1759
FREE –  TO ALL LOCAL & STATE LAW ENFORCEMENT