CONGRATULATIONS to our newly promoted KIDS in our Brazilian Jiu-Jitsu Youth Program. Professor Bill Scott awarded seven more students to their next belt rank on Monday December 11, 2017.
This was our last group for this year that have been training hard and doing a great job!! BJJSA Coaches and parents are super PROUD of their achievement!! KEEP UP THE POSITIVE EFFORT & DEDICATION TOWARDS YOUR TRAINING!! Looking forward to more great achievements in 2018 🙂
*AWESOME JOB BJJ GRADUATES*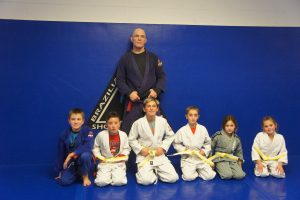 Yellow/White Belts:  Jocelyn, Willa, AJ, Matt L., Justin L.,
Orange/White Belt: Ryder B.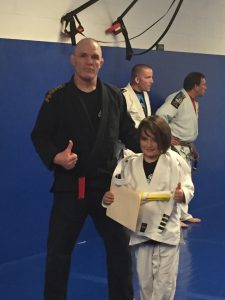 Yellow/White Belt: Owen Promoted 12/20/17 (Missed original promotion night)
_____________________________
Click on link to view all the promotion pics:
https://www.facebook.com/pg/BJJ-Shore-Academy-188239334799/photos/?tab=album&album_id=10155945351584800