CONGRATULATIONS to newly promoted Kids from our youth program for the start of the new year!
Professor Bill Scott awarded eight students to their well deserved new belt rank on Wednesday Feb 13th, 2019. They all have met their requirements and doing a great job on the mats training! Coaches and parents are super PROUD 🙂
Keep working hard everyone…more great promotions to come soon!!
***AWESOME JOB NEW GRADUATES***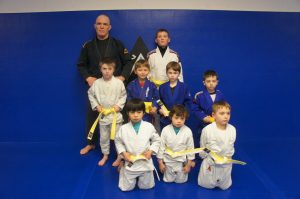 YELLOW/WHITE BELTS: Perseus and Tyrus Gibson, Pat McGorty, Aaron Crabtree, Hunter Crowley
YELLOW BELTS: Shane Mclellan, Conor Boesch, Garrett Scott
_______________________________________________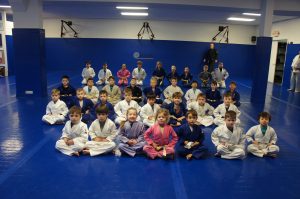 To View all the promotion pics, Click on link:
https://www.facebook.com/pg/BJJ-Shore-Academy-188239334799/photos/?tab=album&album_id=10156984989234800&__xts__%5B0%5D=68.ARBog5vw1tCCcX_EdkspLWi5mH_yjryGJjFOeHm0nphOfTi2srkVjHoBVTQwvHmCwLPO0FzpPCZkrhVwiRK1y937Thfm5wcMf39DGd4dLkNubtJxVvfGAMmkEQeFraC_a7yal9JEfD9TgFgAkajQ661N5VJdnh2CUvfb7Wf5sQ9CR-WfBTkROoYd9kRCkwfUF6e_xkc47k2uLeA4qlWsV2EB2WYjDloEE3-nX1ETix_RYZ9JYiGRuaxsm4ov4LrGQ2KbfeMeO8kccTdP0YsCiIvKfHup4BynELhW4ab9ujk_ENrPj0Z8EY579Yde_VRQ3Ysmu2Q9rsNLzSdzWmKTsWHTAGxMudjaBXu6ZI-JX_uoWUvcArcMfkidETr2n8U44nM82hu2w-Va&__tn__=-UCH-R