CONGRATULATIONS to our KIDS BJJ Graduates on their recent belt promotion from Professor Bill Scott on Wednesday June 27th, 2018.
These 7 students have been training hard showing great effort, dedication and skill on the mats and have earned their new rank! Coaches and Parents are very proud 🙂 KEEP UP THE GREAT WORK during the summer months! More promotions coming soon in the new school year! –
**NEW BJJ GRADUATES**
YELLOW/WHITE: Kailyn & Braedon H., Mason C., Henry & Charlie C., Max DaSilva. //
YELLOW BELT: Jovin S.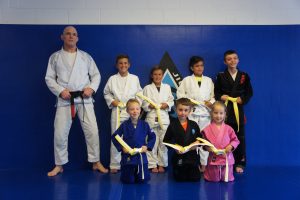 Click on link to view all the pics:
https://www.facebook.com/pg/BJJ-Shore-Academy-188239334799/photos/?tab=album&album_id=10156444680514800