CONGRATULATIONS to our MAY Graduates in the Kids Youth BJJ class!
On Monday May 7th, 2018 Professor Bill promoted 10 more students who have all met their requirements and received their new belt rank! Coaches and parents are so very proud of their commitment, dedication and training!
AWESOME JOB!! More great student promotions coming very soon…Keep training hard everyone
***NEW GRADUATES***
YELLOW/WHITE BELTS: Kylie H., Jasmine A., Evan B., Gracie C., Vincent G., Aidan L., Jason L., Noemi M., Stella F. and Aiden W.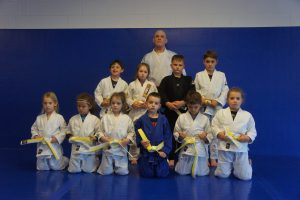 Click here to view all the promotion pics: