CONGRATULATIONS to our most recent promoted kids in our youth program!! We had eight BJJSA kids receive their next belt rank from Professors Bill and George!! Great Job Vanessa, Sofia, Nick R., Frankie, Samantha, Sabrina, Alaina and Ben!!!
Keep training hard on the mats, Your coaches and families are proud of you 🙂 AWESOME JOB!!!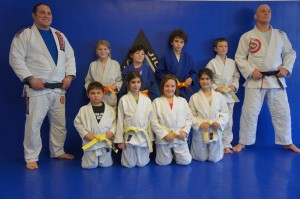 More fantastic achievements from our KIDS BJJ coming soon 🙂
Thank You also to all our coaches for their daily assistance on the mats with the kids.
Click on link to view all the promo pics:
https://www.facebook.com/media/set/?set=a.10152347733409800.1073741845.188239334799&type=1