CONGRATULATIONS to this months Kids BJJ Graduates!! Four of our youth students were promoted on Monday Jan. 25th, 2016 by Professor Bill Scott and each received their new well deserved belt rank!!
Coaches and parents are very proud of how hard they have been working towards their training….AWESOME JOB 🙂
NEW BJJ YOUTH GRADUATES:
YELLOW/WHITE – Michael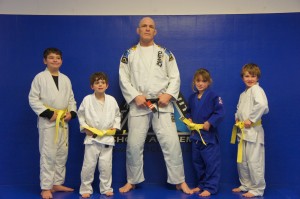 YELLOW – Sabrina B.
YELLOW – Ryder B.
YELLOW – Landon
More Great Belt Promotions to come very soon so Keep training hard!!