CONGRATULATIONS students Olivia and George who recently received their well deserved belt promotion from Professor Bill Scott in our youth kids class on January 31st, 2018.
They both have met their requirements and been training super hard showing great effort, dedication and skill on the mats to have earned their new belt rank!!
Our Coaches and Parents are very proud KEEP UP THE GREAT WORK
**NEW BJJ GRADUATES**
Yellow/White Belt: George and Olivia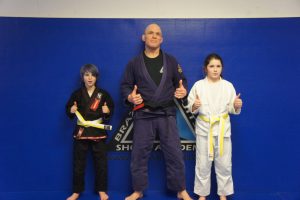 Click on link to view all promotion pics:
https://www.facebook.com/pg/BJJ-Shore-Academy-188239334799/photos/?tab=album&album_id=10156080557634800
More Promotions to come soon…TRAIN HARD Everyone!!