CONGRATULATIONS to our newly promoted kids in our youth program as nine more students received their well deserved new belt rank from Professor Bill.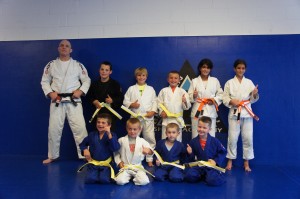 AWESOME JOB!!
Orange/White Belts – Samantha & Sabrina
Yellow Belts – Chase, Thomas
Yellow/White Belts – Lucas, Ryan, Chris, Vinny, Blake
Well deserved, keep training hard on the mats and more great achievements will come your way!!!
Your coaches are proud of you 🙂
KEEP UP THE GREAT WORK!!!