CONGRATULATIONS to this months KIDS BJJ Graduates!! Four of them were promoted by Professor Bill Scott, each receiving their new well deserved belt rank!!
BJJSA is very proud of how hard they have been working towards these achievements!!
AWESOME JOB!!
NEW BJJ GRADUATES:
YELLOW/WHITE – Michaela
YELLOW – Curren
ORANGE/WHITE – Cassidy G.
GREEN/WHITE – Sean Z.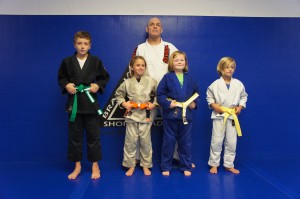 Click on link to view all the promotion pics:
https://www.facebook.com/media/set/?set=a.10153649825224800.1073741869.188239334799&type=3
More Belt Promotions to come, Keep training hard!!