Bill Scott BJJ Shore Academy held another great free training seminar for Law Enforcement and Military professionals on October 4th, 2015 learning the latest self defense tactics with the skills of Brazilian Jiu-Jitsu!
Thanks to our Law Enforcement BJJ Black Belt Instructors Professors Dan Strassheim, Rich Ashkar, Jay Malley and academy head instructor Bill Scott, all for leading an informative hands-on training session!
We also thank the students of BJJSA, who helped assist the training on the mats too. Great job everyone!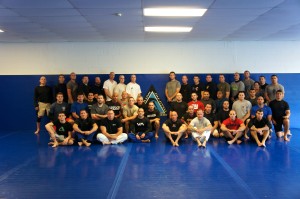 "AN OFFICER WITHOUT TRAINING IS AN ACCIDENT WAITING TO HAPPEN"
Visit our LE page on this website for more info