On Wednesday April 20th, 2016 our head instructor Bill Scott (former wrestler) along with son Willie, a Rutgers college student/wrestler had the honor of meeting legendary collegiate and olympic wrestler, Coach Dan Gable!
Bill Scott, Dan Gable, Willie Scott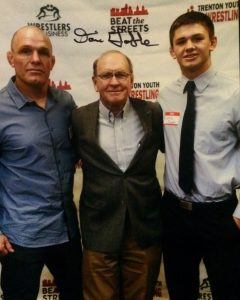 The Princeton Chapter of the WIBN – "Wrestlers In Business Network" held an event evening which featured him as a guest speaker. It was a huge successful night over dinner and discussions.
The mission of this organization is to foster the growth of wrestler-owned or operated businesses across the nation by facilitating business development opportunities and leveraging a talent rich pipeline of wrestling alumni while increasing reinvestment back into the sport.  It will establish a reputation that the sport of wrestling is an asset to our community. This will be accomplished in a grass roots effort to give back to the local organizations and universities that support wrestling.
To become a WIBN member and for more info please visit the web:
www.wrestlersinbusiness.org
To read more about the legendary DAN GABLE – www.dangable.com