NEW MUAY THAI GRADUATES!! Congratulations to Shore Academy Muay Thai kickboxing students who were promoted to their new arm band rank by program head instructor Kru Tom Dowd on January 29th, 2019.
Hard work, dedication and training have gotten them here as they each were tested in their respected ranks. It was a great night with teammates supporting each other in our 2nd graduation ceremony within the program. We are thrilled to see it growing with committed students on the mats weekly. Classes for Teens & Adults every Mon, Tues, Thurs 8pm!
Thanks again to assistant Muay Thai instructors for helping take part in the graduation and in class daily. We appreciate all you do!
***Fantastic Job Everyone***
CONGRATS Promoted Students!!!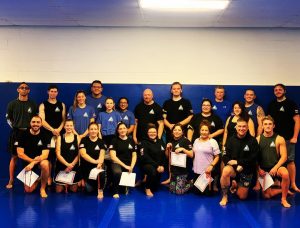 YELLOW: Sabina, Rianna, Isabella C., Mark
ORANGE: Justin, Michelle, Nancy, Kathy, Keri, Grace, Chris
PURPLE: Nick
RED: Joe
BROWN: Claudio, Timmy