NEW MUAY THAI PROGRAM INSTRUCTED BY KRU TOMMY DOWD
(New Jersey Martial Arts Hall Of Fame) Inducted December 5th, 2014
*MUAY THAI TRAINER (Over 20 yrs experience)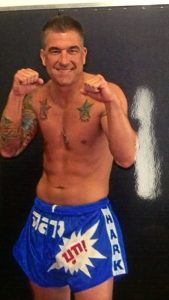 BIO: Coming Soon
Click on school schedule for class times – Training for Teens & Adults
(FREE 2 WEEKS) No Obligation and start feeling great, get in shape and learn some self defense!
Muay Thai Kickboxing Training & Conditioning Drills
Class is 60 minutes (Boxing Gloves & Hand Wraps Required)
Structured Classes (Ranking)
Cardio Workout Intervals and Circuits
Basic Punches, Kicks and Combos (Thai Pad Work)
Core & Strength Conditioning Drills
Beginners Welcome – No Experience Necessary
* Muay Thai, translated into English as Thai Boxing is the national sport of Thailand which feature punches, kicks, elbows, knees, standing grappling to wear down and knock out their opponent. Thai training methods develop devastating power, speed and superb cardio-vascular endurance as well as fighting spirit.
Muay Thai has also proven very effective outside the ring and has been embraced enthusiastically by practitioners of a variety of self defense, sporting, military and law enforcement activities.