What a Special Day it was on Saturday March 18th, 2017 with a great Black Belt "Surprise" Promotion and awesome Sambo Seminar as we welcomed back Master Vladislav Koulikov on our mats!
Introductions began and our very own Coach Tim Nafey was caught by surprise and called up to be presented with his well deserved earned Black Belt by Professor Bill Scott who couldn't be happier for him achieving this rank. The black belts also each spoke having their own inspiring positive things to say about Timmy!
He came to Shore Academy back in 2007 as a teenager and hasn't missed a beat of this journey!
His training dedication, loyalty, commitment, skill level and coaching technique speaks volumes. He's a great student, teammate, instructor and friend who is loved by everyone and we are grateful to have him in our BJJ family!
Tim continues to pursue the Excellence in the Martial Arts, is a great role model who leads by example and now joins our growing elite black belt team at the academy!
CONGRATULATIONS PROFESSOR TIM!!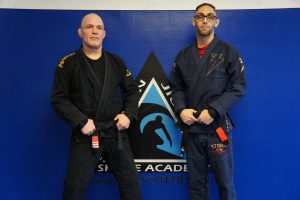 ~
The excitement then continued with Master Vlad, a great Sambist and grappler for another SAMBO Jiu-Jitsu seminar.
Once again he gave us almost 3 hours of his unique approach to grappling that is useful for most BJJ practitioners with and without the Gi. The students and professors had a great time learning some new detailed techniques and training different approaches from various positions of leg attacks.
Master Vladislav is one of the world's leading experts on the combat art of Russian Sambo and has added BJJ concepts to his arsenal in resulting an effective grappling hybrid of Sambo, Judo and Brazilian Jiu-Jitsu which he has also produced for his DVD video series SAMBO JIU-JITSU FUSION.
Everyone who attended enjoyed having him back on our mats!
THANK YOU MASTER VLAD FOR A FUN PRODUCTIVE SEMINAR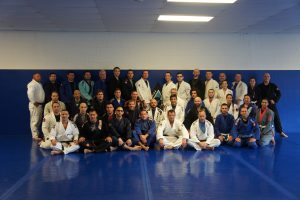 Click here to view all the pictures!
https://www.facebook.com/pg/BJJ-Shore-Academy-188239334799/photos/?tab=album&album_id=10155131159864800