CONGRATUALTIONS to our Black Belt Professor TOM MANELSKI who was inducted on Friday December 5th, 2014 for his great accomplishments as a "Grappler" with the New Jersey Martial Arts Hall Of Fame.
We are very proud and certainly not surprised he was chosen for this award for his dedication and commitment to the sport of Brazilian Jiu-Jitsu goes without question. Tom joined BJJ Shore Academy in 2006 and has been a loyal, dedicated, hard working student and instructor who has the ultimate competitive edge which led him to over 150 Gi and NoGi Grappling Wins (Most in the Expert/Advanced Divisions), with victories in the IBJJF, Pan Ams, Grapplers Quest, NAGA and PGL to name a few.
He works full time in finance but loves to train and compete which helps him be better prepared in life both physically and mentally routinely putting his time in grappling.
Tom is highly respected by all the school students and is a great guy. He is one of Bill Scott's BJJ top instructors when on the mats who helps as many as he can in their training and continues to share his passion for the art.
Tom received his BJJ black belt in 2012 from Master Pablo Popovitch with Professor Bill Scott and is a great friend, and teammate to us all….A CHAMPION BOTH ON AND OFF THE MATS!!
Tom Receives Grappling Award at NJ Martial Arts Hall Of Fame 12/5/14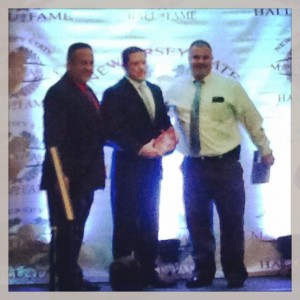 Multiple Grappling CHAMPION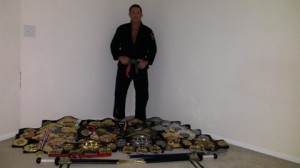 Master Pablo Popovitch, Professor Tom Manelski, Professor Bill Scott 2012