WOMEN SELF DEFENSE SEMINAR AUG 25th, 2017.
(Women, College Girls, Teens)
Learn hands on practical self defense skills that can enable you to avoid, resist and survive situations ranging from low levels of aggression to violent assault. Become empowered and confident in your ability to defend yourself.
BJJ Shore Academy black belt instructors and law enforcement professionals will offer important information for dealing with difficult and potentially dangerous situations.
STAY SAFE – DON'T BE A VICTIM!! Knowing something is better than nothing!!
Email to register your spot ASAP – Billscottbjj@gmail.com
Friday 8/25/17 (6:30- 8pm) $20 Class Fee/ Cash or Check, Thank You
(Plz wear comfortable workout clothes for the workshop).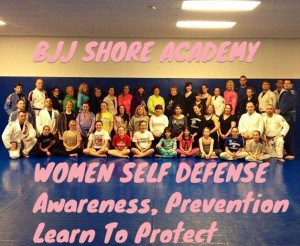 WOMEN SELF DEFENSE WORKSHOPS
BJJSA have been hosting Women & Teen Girls Self Defense Seminars for the past 8 Years with our academy black belt instructors and Law Enforcement Officers with the New Jersey State Police and local PD.
***STAY SAFE***
Come to this informative hands-on seminar given by Certified Brazilian Jiu-Jitsu Black Belts with Law Enforcement instructors by providing you training and education in: AWARENESS, PREVENTION, RISK REDUCTION, RISK AVOIDANCE; AND SELF-REALIZATION OF YOUR OWN PHYSICAL POWER
They will work from different scenarios and situations that could arise during an attack. The techniques are easy to do and easy to remember!
WOMEN, DID YOU KNOW?
Every Single Day 4 Women are Killed by Abusive Partners!
1 in 4 Women will be Sexually Assaulted in their Lifetime!
A Woman is raped Every 46 Seconds!
DON'T BE A STATISTIC!!
You have the absolute right to defend yourself! Find out what you can do right now to keep yourself safe from harm. What you DON'T know , can literally kill you!!
WE CAN HELP – YOU CAN NEVER BE TOO CAUTIOUS!
Learn to defend yourself and your family if someone intends you harm.
COME TO A WORKSHOP OR TRAIN FULL-TIME WITH US LADIES!!
*YOU MAY ALSO CONTACT US TO BOOK YOUR OWN "PRIVATE GROUP SEMINAR" (8 or more people) Women Self Defense
732-904-1759