BJJ Shore Academy Kids Birthday Parties are a FUN, EXCITING and UNIQUE way to celebrate your child's birthday! Your Jiu-Jitsu Birthday personal host and instructor keeps all the children entertained while teaching them cool martial arts skills. You can be sure it will be a fun organized PARTY!! Each party is filled with specially designed drills and games making it possible for all of the kids to have a great time while they are learning some basic Brazilian Jiu-Jitsu self defense skills. Your child will be the guest of honor and help in demonstrations as the assistant "Professor" of the day. There is no previous experience necessary, as our trained staff will take care of everything needed to make sure your child has the best birthday ever!!! AND Parents…We provide all the set up and clean up!!
Each Party Includes:
1.5 – 2 Hour Private Fun-Filled Party
Academy Party Invitations
Birthday Banner & Balloons
Personal Host & Trained Instructors
Pizza & Paper Products
Academy Group Photo
Free Academy T-Shirt
Free 30 Day Pass for All Guest

Structure of the Party
Beginning of the Party – All the guests arrive in the first 10 minutes. They all congratulate the birthday child, sign in and get a name tag, and play until the activities start. *All the kids must have a waiver signed by their parents/guardians. (Parents may stay if they would like to watch or drop off child).
Self-Defense Class and Jiu-Jitsu Games – 45 to 60min: We teach a very fun and exciting Jiu-Jitsu class with games for up to 1 hour depending on the children age group. We then take a group photo with the birthday child by the school logo in which they will receive for a SUPER BIRTHDAY MEMORY!!
Eat and Drink – 30 min: After the Jiu-Jitsu games the children sit, eat pizza then sing Happy Birthday and have Cake! ***NOTE: (Drinks and child's Birthday Cake/Candles is provided by the parent) also Juice boxes/Water bottles work best for drinks!.. No Spills 🙂 There is an extra charge for pizza pies for parents should they want to eat as well. Let our host know the day of before party.
Ending – 15 min: After the cake, (OPTIONAL) for the children to sit around the Birthday Boy or Girl while he/she opens their presents. They also can play "hit the Pinata" – starting with the birthday child. Pinatas are optional if the parent wants to bring one in. Let us know when booking a party and we will leave some time available after the children eat and have cake.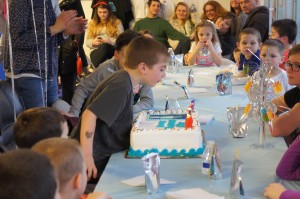 PARTY COST:
BJJSA Members: $225 (Up to 10 Kids) $10 Each Additional Child
Non- Members : $265 (Up to 10 Kids) $12 Each Additional Child
To Book a Fabulous Party:
Please book your party early
Deposit will secure date and time
Friday, Saturday & Sunday Parties can be scheduled from 1pm on.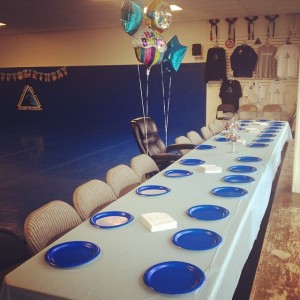 *A $50 Non-Refundable Deposit is Required.(Balance is due in cash or check by the day of the party).
Turn in the *Birthday Party Agreement and your Deposit This is required to lock in a specific date and time for your party. Send an Invitation to your guests whether you use our academy invites or your own. Give a *Waiver to each person you invite. (You will be given the waivers also)
These release forms are due before the party starts. Please keep in mind, if a child doesn't have a release from his parents, he will not be able to participate. You must provide a list of all children that will possibly attend the party. It is very important that we get this list a few days prior to the party. We must have permission slips from each child who is attending the party. *(All forms and info will be given to you in party packet or can be emailed to download)
A Jiu-Jitsu Birthday Party is a great way for your child to celebrate his or her birthday in a unique and special way!! In addition to the fun and excitement, your child will experience some of the important aspects of the martial arts including an increase in confidence, respect, coordination, and fitness. All parties are approximately 1.5 up to 2 hours long and are run by one of our professional staff members.
Frequently Asked Questions
Q: Do I have to be a student of Brazilian Jiu-Jitsu Shore Academy?
A: No, anyone can have a party, no experience necessary!
Q. What ages are good for a Jiu-Jitsu Birthday Party?
A: The age can vary, the child should be at least 3 to have the best time and get the most out of his or her day.
Q. What days/times do you have parties? Call for availability.
A. Fridays, Saturdays & Sundays – Times scheduled between 1pm through 5pm
Q. How do I book a party?
A. Call the academy 732-904-1759, Stop in or EMAIL

PARENT REVIEWS!

Hi, Just to provide some feedback on the one of the best birthday parties we have had for our kids! Shore Academy made our son's big day a very special one with lots of activities and games as well as great pizza!! They really went above and beyond to provide balloons ,his favorite character napkins, a TShirt and a picture of the whole group. I would highly recommend this party. The facility is extremely clean and instructors kept the kids engaged throughout the party. All parents have to do is bring the cake.
Warm Regards,
Jennifer McCabe – Wall, NJ

___________________________________________________________________
Thank you so much for hosting Garret's 7th Jiu Jitsu birthday party. Everything was perfect and he had such an awesome time celebrating his special day with his friends at BJJ Shore Academy. You really made my life so much easier by handling everything from the decorations, party supplies, to the set up and clean up. The instructors were all great with the kids and kept them completely entertained from start to finish. Garret loved that he got to choose his favorite games and activities from class to play during his party. You guys really went out of your way to make him feel special that day!! Again thanks so much for throwing such a cool party for him. He loves training with you guys over there and we can't believe how far he has come since he started with you at the school almost 2 years ago.
You're the best!!
Janeen and Donald Weiland
____________________________________________________________________
This was one the best and well organized birthday parties we have ever had for our boys. The instructors kept all the kids engaged the entire time. They provided all the decorations and pizza. We only had to bring the cake. Very courteous staff that took care of setup and cleanup. The kids had a great time. The parents of all the guest raved about how great the party was and how much fun their kids had. We would definitely recommend Shore Academy for birthday parties.
Anthony and Erin Rivera
______________________________________________________________________
BJJ birthday parties are the best! Our boys are 5, 6, and 8 and we had all three parties here. Both boys and girls ages 4-12 had a blast! Not only did they teach the children Jui Jitsu, they also played numerous games with them. The entire BJJ staff is friendly, helpful and accommodating. We as parents get to sit back and enjoy. Most things are provided for you. They provide all the paper products, balloons, decorations and thank you notes. Pizza is provided at an extra cost and it's one of the best around. All you have to do is bring the drinks, cake, and party bags.
We totally recommend their parties to anyone!! Give them a call and book today. You won't be disappointed,
Kelly and Tommy D'Elia (2 very satisfied customers)
_______________________________________________________________________
Thank you soo very much BJJ family for making Weston's birthday soo special! All the kids had a great time hitting the mats together! Everyone involved was having as much fun as the kids. Weston was so proud to wear the champion belt at the end! He is still talking about it. My favorite part was actually getting to enjoy the party as much as he did. The service and the price were unbelievable. Thank you again BJJ family 🙂
Deana Baumert
___________________________________________________________________
An amazing atmosphere! My twin sons Kyle and Austen train and they love it. We also had their 5 th birthday party here— a terrific time was had by all!!!
Keri Ventura
_____________________________
MORE PARTY PICS!