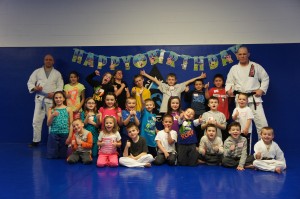 BJJ Shore Academy Kids Birthday Parties are a FUN, EXCITING and UNIQUE way to celebrate your child's birthday!
Your Jiu-Jitsu Birthday personal host and instructor keeps all the children entertained while teaching them cool martial arts skills. You can be sure it will be a fun organized PARTY!!
Click here for Kids Birthday Party info:
PARENT TESTIMONIES
"Brody had a blast at his 5th birthday party at BJJ Shore Academy!  Bill had all of the kids participating in fun activities and gave Brody the opportunity to show his friends what he has learned in class.  Micaela was so attentive with the kids and took care of the rest!  Parents have commented on what a great time their son/daughter had and some of them are now looking to join Brody in his classes! " Thank you again!
Brian & Amy Delpriora
______________________________________________
We celebrated my son's 5th birthday party at BJJ Shore Academy this past February and it was fantastic! Right from the start, Micaela made it easy with providing the invites, decorations (theme of your choice) balloons, tables and pizza.  The only thing we needed to bring was the cake and knife to slice it with! During the party, Bill kept the kids (all 21 of them!) completely entertained with age appropriate exercises, drills and activities. The kids all had a blast and it was such a good change from your typical bounce house birthday party! Thank you Bill and Micaela for making my son's 5th birthday party a memorable one!
Monica Bardis
___________________________________________
Our son's 9th birthday was great.  Everything was arranged for us and customized to our needs. The activities were fun for the kids and lots of smiles all around.  Many parents commented that it was a unique party and were impressed with the space.  We highly recommend a Jiu-Jitsu party!
Doug & Christina Lemanowicz
______________________________________________
Hi, Just to provide some feedback on the one of the best birthday parties we have had for our kids! Shore Academy made our son's big day a very special one with lots of activities and games as well as great pizza!! They really went above and beyond to provide balloons ,his favorite character napkins, a TShirt and a picture of the whole group. I would highly recommend this party. The facility is extremely clean and instructors kept the kids engaged throughout the party. All parents have to do is bring the cake.  Warm Regards,
Jennifer McCabe
____________________________________________
Thank you so much for hosting Garret's 7th Jiu Jitsu birthday party. Everything was perfect and he had such an awesome time celebrating his special day with his friends at BJJ Shore Academy. You really made my life so much easier by handling everything from the decorations, party supplies, to the set up and clean up. The instructors were all great with the kids and kept them completely entertained from start to finish. Garret loved that he got to choose his favorite games and activities from class to play during his party. You guys really went out of your way to make him feel special that day!! Again thanks so much for throwing such a cool party for him. He loves training with you guys over there and we can't believe how far he has come since he started with you at the school almost 2 years ago.
You're the best!!
Janeen and Donald Weiland
___________________________________________________
This was one the best and well organized birthday parties we have ever had for our boys. The instructors kept all the kids engaged the entire time. They provided all the decorations and pizza. We only had to bring the cake. Very courteous staff that took care of setup and cleanup. The kids had a great time. The parents of all the guest raved about how great the party was and how much fun their kids had. We would definitely recommend Shore Academy for birthday parties.
Anthony and Erin Rivera
___________________________________________________
BJJ birthday parties are the best!  Our boys are 5, 6, and 8 and we had all three parties here.  Both boys and girls ages 4-12 had a blast!  Not only did they teach the children JiuJitsu, they also played numerous games with them.  The entire BJJ staff is friendly, helpful and accommodating. We as parents get to sit back and enjoy.  Most things are provided for you.  They provide all the paper products, balloons, decorations and thank you notes.  Pizza is provided at an extra cost and it's one of the best around.  All you have to do is bring the drinks, cake, and party bags.
We totally recommend their parties to anyone!!  Give them a call and book today.  You won't be disappointed,
Kelly and Tommy D'Elia (2 very satisfied customers)
________________________________________________________
Thank you soo very much BJJ family for making Weston's birthday soo special! All the kids had a great time hitting the mats together! Everyone involved was having as much fun as the kids. Weston was so proud to wear the champion belt at the end! He is still talking about it. My favorite part was actually getting to enjoy the party as much as he did. The service and the price were unbelievable. Thank you again BJJ family 🙂
Deana Baumert
____________________________________________________
An amazing atmosphere! My twin sons Kyle and Austen train and they love it. We also had their 5 th birthday party here— a terrific time was had by all!!!
Keri Ventura
___________________________________________________
This is one of the biggest reasons I need to thank you both for giving Sabrina such a wonderful birthday party. Your attention to all the little details (the invitations, the balloons, the table setting, taking all the pictures!!!!) really enabled us to focus on spending time with each other and just to enjoy watching the kids. Thank you so much for everything, the kids had a blast and it was truly the most stress free party. Sabrina loved it and we couldn't have asked for anything more!
Carolyn Boyle
__________________________________________________
We decided to have my son's 7th birthday party at BJJ Shore Academy and we are so happy we did. The kids had a great time and enjoyed all of the activities that they participated in that day. The staff at BJJ handled all of the party preparations, which included the paper products, balloons and pizza. I only had to supply the cupcakes and juice boxes. It was the easiest party that we have thrown, and the most enjoyable. I would highly recommend BJJ Shore Academy for your next party.
Vanessa Stevens